AUDIO ISSUE IS NOW FIXED
Youtube Version:
Please help the makers of this film recoup the time and money spent by purchasing a T-shirt and you will receive a free DVD copy of Missing Links. These will be personally made and imprinted by the makers of this film. Onedollardvdproject.com will also be providing copies there but not for another couple weeks yet.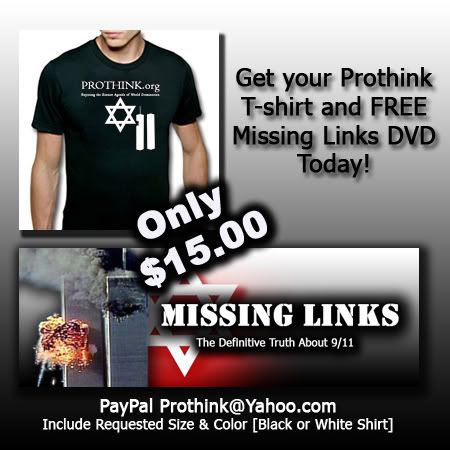 Click the donate tab below and note what size you prefer and a shipping address. If you would just like to donate to help the makers of this film in future projects that would be appreciated too. The DVD will be a more polished version with audio and other others corrected. Thank you for your support.
"Now you will discover the definitive truth about 9/11 and learn why even the most popular movies on the subject have failed to address the evidence exhaustively presented in this video. The facts will make it abundantly clear that the so-called 9/11 "Truth" movement has been infiltrated and is ultimately controlled by the same criminals who orchestrated the attacks. As they say, 'if you want to control the dissent you lead the dissent.' Culminating evidence from the FBI, CIA, NSA, US Armed Forces Intelligence sectors, Foreign Intelligence organizations, local law enforcement agencies and independent investigators, Missing Links goes where no other 9/11 video has dared to."
NOTE: This is a pre-release version of Missing Links. Errors to audio, video and typographical errors will be corrected in the final version. Feel free to notify us of any such errors. Although not the final version, please download the video and save it for your own records.

MissingLinksVideo.com
MissingLinksFilm.com
MissingLinksMovie.com
MissingLinksMovie.org
911MissingLinks.com